All County Music Lessons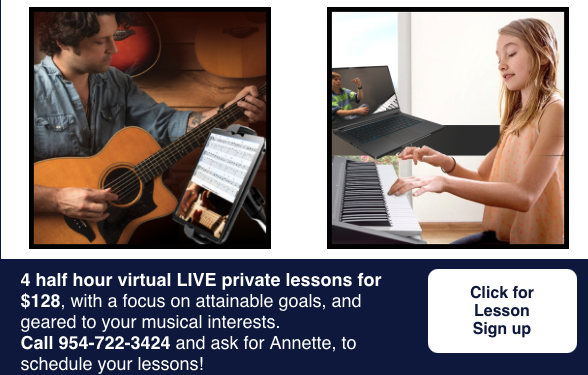 ONLINE LESSONS AVAILABLE WITH ALL OF OUR TEACHERS
Ages 10 to Adult
All County Music offers online, interactive musical instruction on most instruments. Our teachers are experienced, college educated professionals who are proficient on the instrument(s) they teach and are capable of elevating the levels of musicianship within their students. Our instructors are frequently guest clinicians in our local schools and understand the needs of improving basic and advanced musical concepts. Lessons with our teachers are fun and educational.
So take the next step and schedule your lessons by calling us at (954) 722-3424
Music Makes You Smarter
YES! Proven in test scores throughout a child's school career, we believe that learning to play an instrument and reading music also enhances problem solving, coordination, memory skills, and concentration while promoting teamwork, goal setting, self-expression, and self-confidence. Online Music lessons are also a great way to relieve stress and are a perfect way for families to have fun.
Ready to Purchase Lessons?
If you know what instrument and teacher you would like please click here to buy 4 lessons @ $128.
Need More Information?
If you would like to more information on lessons please email us. . We will contact you via email or phone with currently available openings.
---
Meet our Teaching Staff:
Guitar, Bass Guitar, String Bass, Ukulele, Mandolin
Mark Bradjic
Mark has 10+ years teaching experience At All County Music since 2013
Lessons with lots of technique for the beginner to advanced students.
Flute & Piccolo
Ronnie Rothchild
Ronnie has has been teaching at All County Music since 1980. She holds music credentials from Boston Univeristy School of Fine Arts, Mannes College of Music - Master Classes with Piere Rampal and William Bennett
She is a current clinician at many schools in Broward and Palm Beach counties, private teacher, and owner of Cantilena Chamber Music
Saxophone, Clarinet, Recorder
Mindy Zimmerman
Mindy has been teaching at All County Music since 1985. Her credentials include a degree from Florida State University School of Music.
She is a clinician and consultant to area middle and high school bands. Former middle and elementary school music teacher, Mindy can even help your elementary aged student learn to play recorder.
Trumpet, Trombone, French Horn, Tuba, Euphonium
Dan Miller
30+ years teaching experience At All County Music since 2002
Temple University BME
Use of SmartMusic software for enhanced lesson experience.
Live performances with Gold Coast Orchestra, Church by the Glades and Hollywood Express Band
Violin, Viola, Cello
Freddy Ortiz
Freddy has 25+ years teaching experience At All County Music since 2012
National Conservatory, Lapaz Bolivia Keene NH State College InstructorViolinist
Boca Pops Orchestra, Sunshine Pops, Opus One Orchestra of the Miami City Ballet
Piano, Keyboard
Gary Lloyd
40+ years teaching experience At All County Music since 1976 Degree includes Florida State University School of Music, Bachelor of Music Performance
Gary has developed his own teaching method allowing his students to play more advanced music sooner. Using a computer and Finale music notation software, Gary custom tailors lessons for every student. Each composition, song, or exercise is made available to you during your online lesson. Emphasis on note-recognition, scales and chords for playing all kinds of music from Bach to today's popular music.
Randy has 16+ years teaching experience At All County Music since 2016
Randy started playing drums in NYC at age 4, studying with various area drum teachers until age 13 when he moved to Miami. He continued his drum studies with teachers in the Miami area and participated in drum line during his high school years and later joined the Floridians Drum & Bugle Corp. After high school he played in various rock and roll and R&B bands. By 16 he was playing professionally in and around the S Florida area, and continues to do so today.